Home » Sitemap » How to monitor Mac activities?
How to monitor Mac activities?
How Mac Monitoring Software Works?
Using MAC monitoring Software, you can easily monitor and track keystroke made on your Mac OS X installed computer.
Step 1-

Download and install Mac Monitoring Software

To monitor all PC activities, first you have to download and install Mac monitoring software on PC. After installation initial screen will be displayed:-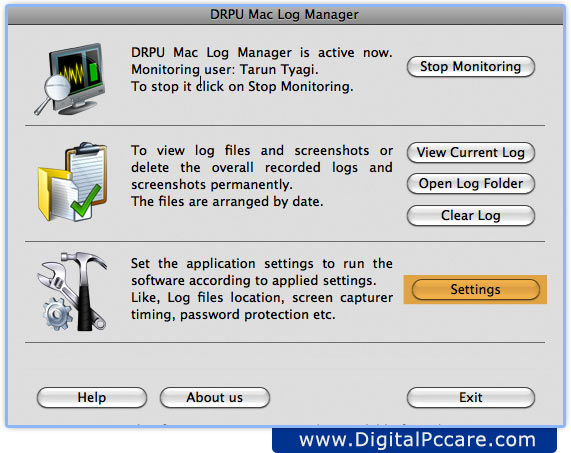 Monitoring process is in running mode. If you want to stop monitoring, click on "Stop Monitoring" Button. As shown in above screen.
To view current log files and screenshots of recorded activities, click on "View Current Log" button.
To view overall recorded logs, press "Open Log Folder" button.
To delete entire recorded logs, click on "Clear Log" Button.
Step 2-

Set General settings to record activities

On clicking the "Settings" button, the following screen appears:-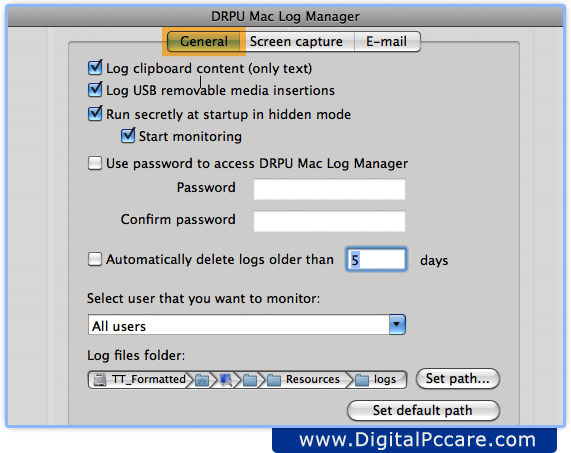 Log clipboard content (only text): Select option to log text clipboard content only.
Log USB removable media insertions: Select option to Log USB removable media insertion and removal activities on the PC.
Run secretly at startup in hidden mode: Select the option to run the software secretly at startup in hidden mode, similarly select Start monitoring option to start the monitoring process.
Step 3-

Set screenshot capture settings

Click "Screen capture" tab to set screen capture settings. To capture active window picture, first you have to set time interval duration. As shown in following screen:-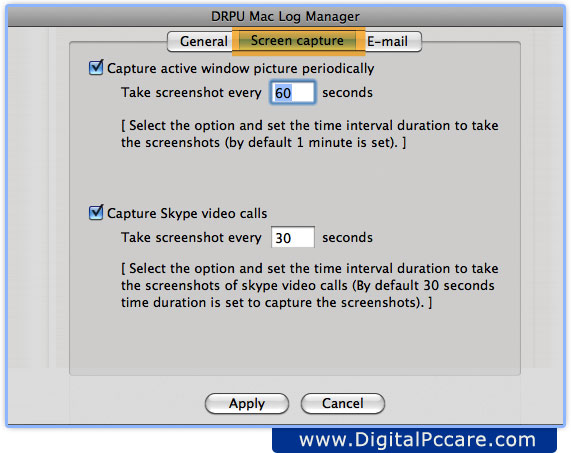 If you want to capture Skype video calls, select Capture Skype video calls option and set the time interval duration to take the screenshots of skype video calls.
Step 4-

Set email settings to send log file

On clicking email settings following screen will be displayed:-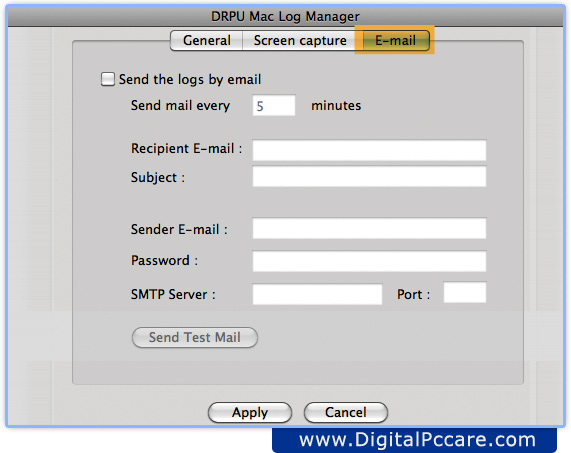 Now you have to select "Send the logs by email" option and enter time interval duration to send log file of recorded activities.
Enter recipient email, subject, sender email, password, SMTP Server and port address of your email server.
Now click on "Apply" button to apply, General, Screen capture and email settings.