Home » Sitemap » How PC monitoring software works?
How PC monitoring software works?
How to record typed keystrokes on computer?
To record typed keystrokes, first you have to download and install PC monitoring software.
Step 1-

Record Typed Keystrokes

Click on "Keystrokes Activities" Button, as shown in below screenshot:-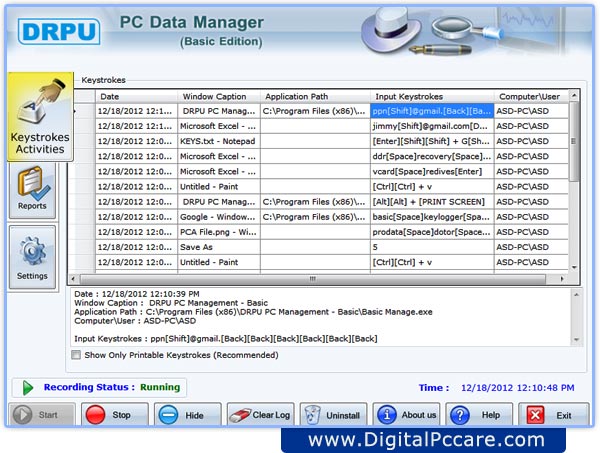 Here you can view entire information including:-
Date: Date and time of pressed keys.
Window Caption: Title of Application, which is being used.
Application Path: Path of Accessed Application, where it exists.
Input Keystrokes: Display typed keystrokes.
Computer/User: Computer name and its user name.
Select the particular field, related information will be displayed at below the grid.


Step 2-

Create and View Reports

To create and view reports, you have to click on "Reports" button, the following screen will be appeared:-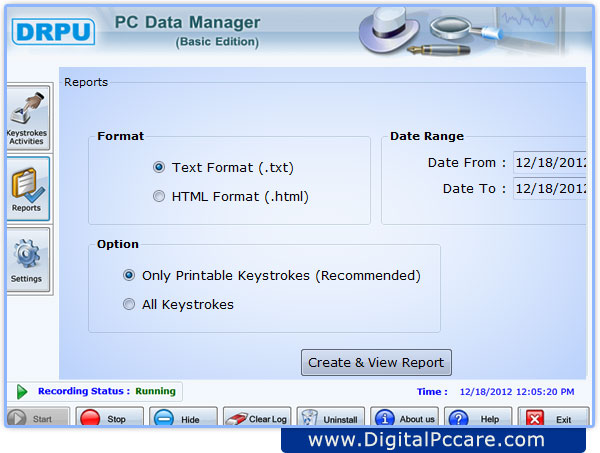 Now create report of typed keystrokes in either Text (.txt) or HTML (.html) file format.

Select date range to generate the report.

You can create and view the report of "Only Printable keystrokes (Recommended)" or "All keystrokes" according to your requirements.